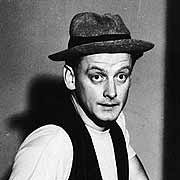 Where's my piece of the pie?
Sometimes, usually in the middle of my work day, I ponder that and other questions; I wonder where I strayed, what I may have done that has precluded me from the "good life"; Where is my Mc Mansion and my BMW and my twice yearly European vacations?
Why aren't I lucky enough to have fallen in with the chosen few? Why don't I have a summer home in The Hamptons and a weekend get-away place in South Beach?
Where are my chef, driver, butler and maid?
How come nobody told me what stocks to by so I could have made a killing in the market?
Sometimes I pipe dream, like when I by the occasional lottery ticket, I dream of extravagance … much the same way
Ralph Kramden
must have dreamt about getting out of that cold water flat in The Honeymooners.
Then I am jolted back in to reality, and I look around and see that I am surrounded by
Nortons
–
sewer poets
– they all seem happy enough with little or nothing.
I guess that is the secret, to be happy with what you have … and then that evil voice in my head says,
"Say Pax isn't that one of those little white lies you tell yourself to get through the day?"
And I think, "Yes it is",
it'll just have to do until my ship comes in.