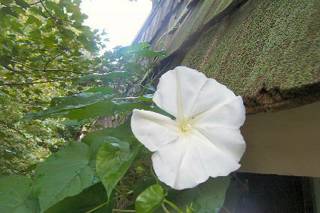 A grand opening this evening on my balcony; finally after almost three months of cultivating, feeding, and protecting from floods and wild summer weather --- my first moon flower blossomed.
The moon flower or
Ipomoea alba
is a magnificent plant that vines crazily and takes over everything in its path. When the flower actually opens, it is huge, almost the size of a small saucer, and there is a sweet fragrance to it that is similar to honeysuckle. When one of these bad boys does its thing, chances are you will smell it before you even see it.
I've grown these vines in the past, and while their arrival usually heralds the dying days of summer, the plant can pretty much go until the first real frost.
The photo above was shot this evening at around six pm.