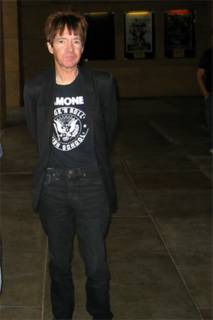 Rodney, When will he be loved?
D. J.
Rodney Bingenheimer
is a small man with a big heart.
His life story is recently chronicled in the documentary film, "
Mayor of The Sunset Strip
". In this movie we meet Rodney plus a dizzying array of music and film; personalities that he has befriended through the years. From the band
X
, to
Cher
, to
David Bowie
, to
Brooke Shields
to
Nancy Sinatra
, Rodney has a fan club as diverse and eclectic as the music he seems to treasure so much.
What makes this movie so compelling though is Rodney himself; frankly he's a bit of an enigma. While he's said to have given dozens of bands and musician's their break by playing them on his radio show, and while we see that prior to his radio days he ran a night club and worked for several record companies, he is not a wealthy mogul living in a splendid palace somewhere in the hills of Beverly. No, from all appearances it seems that Rodney has a small apartment cluttered with his memorabilia.
Another thing about the movie is the feeling of sadness one seems to feel emanating from this elfin creature; several heartbreaking moments are captured on film such as when the woman Rodney seems very much smitten with, admits to having a boyfriend (see if you don't feel for him as you watch his face while the woman admits this), or the moment when he takes his late mother's ashes to England and tosses them into a river while on a ferry boat…
This is not to say that
Mayor …
is a dark film, it's not. It celebrates a man who has most defiantly lived life on his own terms and who, for better or worse, never sold out.
There is a child like quality about Rodney in the way he presents. Many of the women he is associated with (like Nancy Sinatra and Cher for instance) seem almost to want to mother him in a sense. At one point Rodney states that
Sonny and Cher
were like his parents. It's all rather touching.
As for that big heart of his; in one part of the movie we meet a friend of Rodney's named
Ronald Vaughan
, Vaughan is an eccentric fellow with a
Jennifer Love Hewitt
fixation who dreams of becoming a rock star --- Rodney apparently supports Vaughan by helping him make his rent and even plays his god-awful music on his radio show. Now that's a great guy!
In the end though, what exactly do we make of Rodney Bingenheimer, friend of almost everyone in Hollywood (it would take days to talk about every celebrity who is either in this film or mentioned in it), music impresario, patron of the deluded, and broken hearted man pining over a woman who does not love him and a dysfunctional mother who has died.
What indeed?
Ladies and Gentleman, may I present, Rodney Bingenheimer, Mayor of The Sunset Strip.