She's Ready For Her Close Up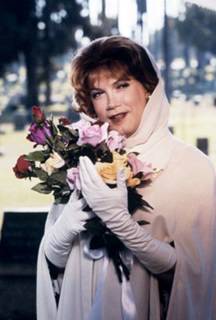 What do you get when you mix Rita Haywarth, Joan Crawford, Bette Davis, and Susan Hayward---as well as the throaty voice of Kathleen Turner?
You get, Angela Arden--faded screen star and former musical ingenue living her life in a gilded cage somewhere in Beverly Hills.
That's the set up for Charles Busch's latest film creation, "Die Mommie Die!".
As directed by Mark Rucker, "Mommie..." Plays like a mix of half a dozen of those old Hollywood tales of the late 50's and 60's. Elements of "Whatever Happened to Baby Jane" playfully flirt with hints of "Valley of the Dolls" as well as "Sunset Blvd" and probably a half a dozen other films whose name's escape me now.
Busch (who originally wrote "Mommie..." As a stage play) is amazing as Angela. He is every inch the pampered, petulant, piranha with a heart of gold. He dazzles with a performance that (if there were any justice in the world) should garner him an Academy Award Nomination.
And the dialogue; my god, they don't write stuff like this anymore. For instance, Angela talking with her paramour, saying to him in a slurred growl, "You slipped into my life as easily as vermouth into a glass of gin."
Busch is well supported by a great cast that features the phenomenal Philip Baker Hall (as her no-good bullying husband, Sol), Natasha Lyonne (as her hateful scheming daughter, Edith), Frances Conroy (as a secret lush and bible quoting maid), and an amazingly-dead-pan- brilliant Jason Priestly ( who plays bi-sexual stud, out of work TV-actor, Tony Parker).
The biggest treat of "Die Mommie Die" is that all of the actors play this straight faced, there is no mugging, no winking. It plays like a great melodrama replete with an over the top orchestral score (think, "Far From Heaven", with a sense of humor).
My recommendation; grab a group of friends who love old films, grab a cocktail, and grab a copy of "Die Mommie Die", then settle in for a brilliant hour and a half of movie making.