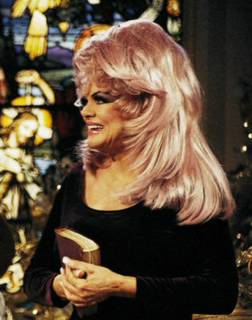 For the past few days, seeking comic relief in a world gone fucking nuts (see election, 2004), I've been tuning in to one of the most hysterical and garish events on television; The TBN Praise-A-Thon.

The P.A.T. seems to have been running for almost a month now here in the Delaware Valley. At any given moment one can tune in and see preachers turning colors as they sermonize and ask for money. One night that Benihana guy (at least I think that's his name) was on there selling healings for a love-pledge. Another time a woman was singing this gut wrenching gospel song while behind her a group of young men and women, all clothed in black, did an interpretive dance (this performance ended with people in the audience falling out and a woman running to them so that she could "lay hands" on them and drive out demons – demons who presumably posses innocent people to give their life's savings to television preachers).

More often than not, the P.A.T. features this imposing woman with a crop of candy cotton pink hair on her head, Miss Jan Crouch (wife of TBN founder, Paul Crouch).

Ms. Crouch is a sight to behold kids. Aside from the afore mentioned coif, she is prone to the kind of eye make up not seen since silent film stars graced the silver screen, as well as Barbie doll pink lipstick. Appearing to stand over six feet tall, Ms. Crouch may well be mistaken for a drag queen – a very frightening drag queen. Seriously, this dame makes Tammy Faye look like Laura Bush.

As any self respecting gay man might do, I immediately had to know more about this broad. A quick Google search landed me all kinds of info about Jan and her ministry.


To wit:
• Many Xtians feel that Jan and her hubby are blasphemous heathens! (OK, score one point for the Crouch's)


• Jan once hosted a "Christian Liposuction Seminar"; because everyone knows, Jesus don't want any fat folk praising his name).


• Jan's hubby is probably gay (well that would explain why he married her!) and recently paid off a male who accused him of unwanted sexual advances (as reported in the Los Angeles Times).


• A hysterical web site exists known as The Jan Crouch Experience.


• Another web site refer's to Jan thusly: GOD'S TRANSVESTITE SAVIOR!


• In 2000, Jan's hubby really pissed off Xtians when he allegedly called Jesus a communist and then had the gall to quote CS Lewis (just click this link, the story gets more and more strange with Jan lying in a trance state and speaking in tongues…).



I also learned that Jan is a cancer survivor (good for her). That said what disease could stand up to this woman? She'd stare it down and send it back to Satan!

Anyway, I just wanted to thank my local cable company for supplying the funniest bit of programming since Turner Classics did that Marx Brother's Marathon a few years back, and for giving me and the rest of the world the chance to gaze upon Ms. Jan Crouch and say, "What the Fuck?"

Praise the Lord and pass the pink hair dye!